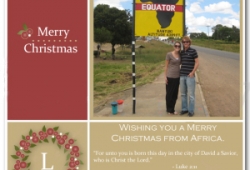 Posted on December 25, 2010 by Andrew in Uncategorized

Click the picture for a larger view. Andrew and I had a relaxing morning with french toast and homeade syrup. We opened the presents my parents sent with us; Andrew got a new shirt and I a new necklace.  (And we are both wearing them today!) We are now headed to the Madory's, a […]

1 Comment. Continue Reading...