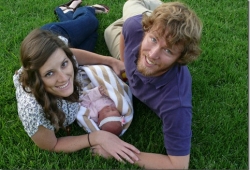 Posted on August 29, 2012 by Andrew in Uncategorized

Adalyn Grace Lettsome 7-27-2012 11:02 AM 7 lbs. 1 oz. 20.5 in. As you all probably already know, our beautiful daughter Adalyn was born and she is a month old this week! What an exciting time this has been for us! My (Abby) mom and sister were here in Kenya, which was a tremendous help! […]

No Comments. Continue Reading...