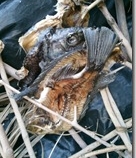 Posted on February 23, 2012 by Andrew in Uncategorized

As we pulled out of Baragoi, at a time way to early to be good for my health, we were greeted by a unique site. It took a moment for my still tired eyes to adjust to the creature racing away in front of us, but after a few seconds my eyes focused to see […]

2 Comments. Continue Reading...