Murphy's Law- Picking up our new children's home
Posted on June 15, 2012 by Andrew in Uncategorized

I took this out of a post I will add in a couple days about relocating one of our childrens homes. It ended up being so long that I made it its own post. This is about a day where Murphy's law came true and everything that could go wrong did. I hope you can laugh at it as I do looking back.

I woke up at 5 am to be ready for a 6 am departure. At 6:01 I called Williams to see where the truck was. He had already confirmed with them that they would be on time. At 7 am, we cancelled the first truck and ordered a new one. Most likely the first truck driver was doing another job and stringing us along so we do not go and hire another truck.

The second truck was suppose to be ready by 8:30. The owner showed up at my house to collect the down payment at 8:30 sharp, but then said the truck was waiting for the mud to dry so it could get out and would be ready by 9. With all the delays, I met with Robert, who was in Nanyuki surveying to come over as a missionary. The truck left Nanyuki around 9:30 and I left around 10:15 in my car to meet them at the warehouse and help carry supplies and furniture (the Daniels let the lease go on their Nairobi flat and Abby and I bought a lot of their furniture).

After battling traffic, I arrived at the Essential Structures warehouse a little before 2, no truck in sight. An hour later the truck arrived. It had gotten a flat tire on the way. A few hours later, everything was loaded and it was time to head to the flat to get the furniture. Did I mention that we were suppose to make it back to Nanyuki that same day and it already after 6pm… Thank you to Andre and Coline for letting me crash with them.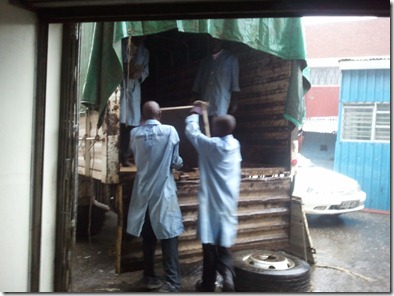 I have never seen Nairobi traffic so bad in all of Nairobi traffic badness. The 20 minute drive to the flat, usually an hour in traffic, took me 2 and a half hours and the truck over 3 hours. The entire city was a parking lot. It is now 10 pm, and as we are getting ready to load the truck, the property manager tells us we need a "gate pass" in order to move things out.
A gate pass??? ODM, the company that manages the apartments, has known we are moving out for weeks and they never mentioned a gate pass. In fact, the flat is being vacated because ODM decided to turn it into office buildings and now they are telling us we cannot move out. The managers wonderful suggestion was to park the truck in the lot for 2 days (the following day was a national holiday) and wait to get the pass. The truck costs $500 a day and I just fought 3 hours of traffic not to mention everything else in the day, and that is the best he could come up with.
Luckily, Andre is good at politely pressuring people, and after an hour, we had our permission. 11'o'clock at night and it is time to load the furniture. I am a walking zombie, but Andre kept me going. I was ready to give up and put moving the furniture off to another complicated day.
A few hours of rest and it was time to hit the road the next day. The truck was ahead of me as the guys slept at a truck stop and got an early start. I figured I would catch up at some point.
Before leaving, we loaded a couch in my car and some other items from the flat. Also, Andre and Coline were moving out of the flat and into their new place, so we loaded their car too. Again we were harassed by management, but we just pushed on as it was just a few items.
The truck offloaded the furniture in Nanyuki and then continued on to the site. I caught up with them at the site in time to see them trying to dig the truck out of the mud.
I wasn't at all surprised. I actually double checked that I had my tow straps because I figured there was a 90% chance they would drive off the main road to get closer and sink in the mud. It happens every time.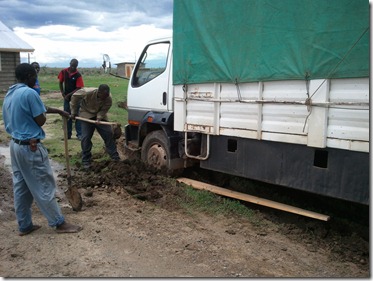 First I pulled the tractor out which got stuck trying to pull the truck out. Then as a couple of the men dug out the tires, I helped unload the remaining concrete slabs. Time to put my new snatch strap to the test.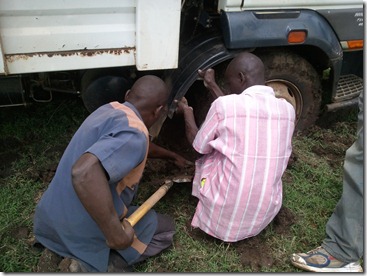 A side note for anyone who likes offroading, get a snatch strap. Unlike tow straps, snatch straps stretch. This allows you to get a running start and not feel a massive jolt when the rope goes tight. I could barely tell I was pulling out a 10 ton truck. It is impossible to understand the difference it makes without trying one. It was unbelievable!
It is now afternoon of the second day, and everything was on site. I went home and crashed because tomorrow we have to lay all the slabs in preparations for the fundis to put up the buildings the next day.