We're back!!
Posted on May 20, 2013 by Andrew in By Abby

Well, its been a while since we have written a blog post.

But we are excited to say that we are back in Kenya, where our home and ministry are!

We left Miami, Florida at 5:30pm last Wednesday evening. We arrived in Nairobi somewhere in the late hours of Thursday night, and got to the place we were staying at 1am. The flights went really well. I always get nervous travelling with Adalyn but she was awesome! We thank everyone for your prayers, and especially God for his grace. It was a very tiring 24 hours, but we arrived safely and got all 13 pieces of checked luggage with us!

Since getting here, we have been staying with a friend in Nairobi, recovering from jet lag. The first 2 nights Adalyn's day and nights have been way off, as we have been having "play-time" from around 11pm-3am. But thank goodness last night she did sleep without thinking it was daytime! We are all feeling mostly rested now. Andrew spent most of today in the government office getting Adalyn's dependent pass and renewing our drivers licenses. Thank goodness for a wonderful husband who will go spend a whole day in such long lines and patiently deal with people who make a simple task take hours to do!

We are excited to say that we are heading home to Nanyuki tomorrow morning! We are ready unpack our bags and start getting settled into our home, as well as see all our friends there!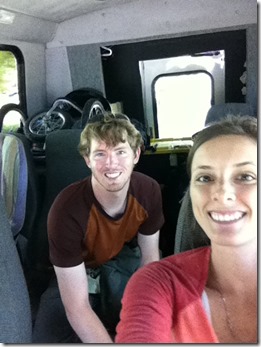 On our way to the airport. Thanks to our good friend Scott Kellerman for driving us to Miami, and his parents for letting us borrow their mini-bus to fit all our stuff!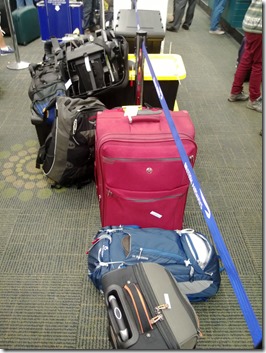 This picture doesn't do it justice, but here is most our luggage. We were the people you don't want to get stuck behind in the check-in line.
Now that we are back, we are committed to and excited about blogging more often! Thanks for your prayers and interest in our ministry!